Direct Mail Postcards
Reach New Customers Quickly & 
Grow Your Business
Direct Mail doesn't have to be expensive or frustrating.   We make it quick, easy and affordable to design and send a Postcard campaign.
Do you need Postcards to hand-out or mail at a later date? No problem! We also offer Boxed & Shipped Postcards that are ready for you to hand out to Customers now or mail them in the future.
Connect with new customers and boost sales and grow your company.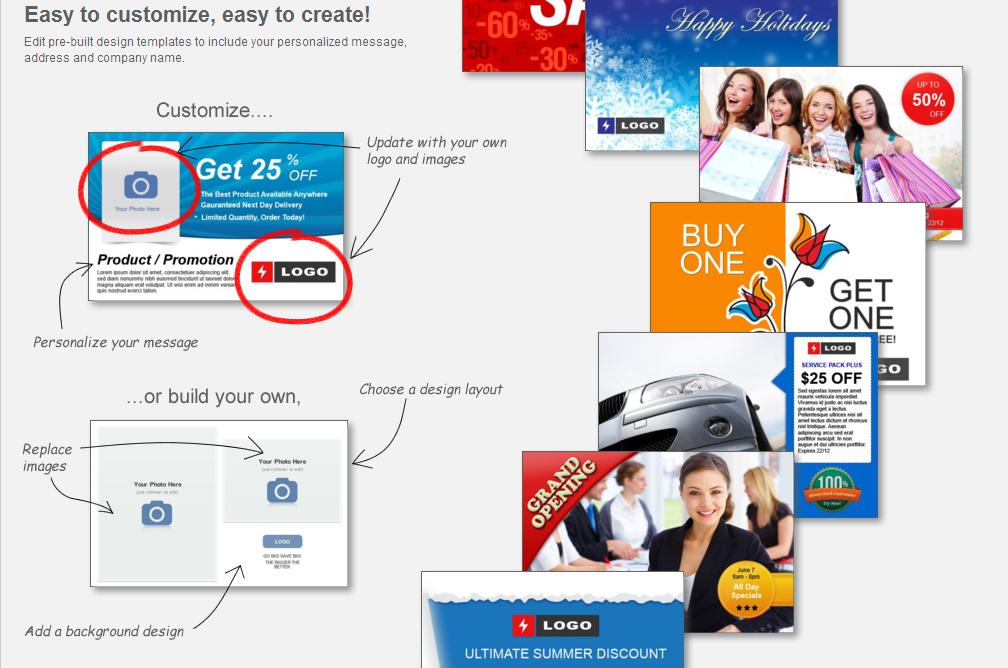 Are direct mail Postcards effective?
Yes! Direct mail Postcards do work, and they are an extremely effective form of direct mail marketing.
According to a recent report from the ANA (Association of National Advertising), direct mail response rates are consistently strong and steady.
When businesses used a purchased mailing list, they saw an average response rate of about 4.9%, compared to 2.9% the year before. When businesses used their own contact list or in-house list of customers, they saw an average response rate of about ~9%!
Direct Mail and Postcard marketing is still extremely popular with businesses large and small, because it works!
How can I be sure that my Postcards reach the right people/businesses?
You decide who receives your Postcards.
You can choose to send them to your current customers (ie. you can use your own customer mailing list), or we can help you build a new, targeted mailing list of potential new customers.
If you want to send your Postcards to a new target audience, we can help you! We offer targeted, accurate Consumer Mailing Lists and Business Mailing Lists.
Every List is tailored to your target market and location/s.
There are 100's of demographics to select from to ensure that your new mailing list is as targeted as possible. You can build and buy your mailing list online, or give us a call. Either way, we will do whatever we can to help you find the right mailing list for your business.
What are the most popular reasons for using Postcard mailers?
Businesses use Postcards for lots of different reasons, but these are the top 10 reasons for using Postcards to get your message out there.
Advertise a new Product or Service
Grand Opening
Big Sale
Announce an Event
Offer a Coupon / Discount
Drive traffic to your Website
Hire new Employee
Boost Attendance
Increase Memberships
What is EDDM?
Every Door Direct Mail (EDDM) is a direct mail service, offered by the United States Post Office (USPS) allows you to send mail to every home, and every address in a particular area.
Every Door Direct Mail is used by businesses that want to send mail to every address in a particular carrier route or zip code.
Some people refer to an EDDM mailing as a 'Saturation' mailing.
For more information, please visit our Every Door Direct Mail page.
How much does Postcard Marketing cost?
Postcard pricing can vary dramatically from company to company. But essentially, these are the factors that effect the final cost of your Postcard direct mail campaigns:
Professional, high-quality Designer
Full color v black + white
Postage Rates
First Class v Standard Mail
In-house mailing list v targeted prospecting mailing list
Cardstock v light-weight paper stock
Matte finish
Nonprofit discounts
Postcard Size
Can you help me design my Postcard?
No, sorry. We do not offer postcard design services. However, we do offer Postcard Printing and Mailing services.
Once you have your Postcard artwork designed, please feel free to email it to us in a .pdf file format and we will take care of the rest!
What is the turnaround time for your printing services?
Once our Printing department receives your Postcard artwork and your mailpieces are approved for printing and mailing, you can choose any mail date that is 7 days out.
On average, small business Postcard marketing campaigns are printed and mailed within 7-10 business days of us receiving Postcard artwork.
Here is a sample timeline :
Day 1 : You email us your Postcard artwork in a .pdf file format
Day 1 : Our Printing department reviews your Postcard artwork and makes sure that it is in the correct format
Day 2 : We will email you to confirm that your artwork is approved, or request additional edits/changes.
Day 2-4: Once your Postcard artwork is approved for Printing & Mailing, you can now select your Mailing date. This date must be at least 7 days in the future.
Day 9 : Your Postcards will be Printed and Mailed to your potential new customers !
How can I save some money on a postcard mailing?
The largest cost for most direct mail campaigns is racked up by the postage; the cost the USPS charges you to mail your postcards.
One quick way to save money, is to send postcards via Standard Class mail, instead of using First Class mail postage. So, if you aren't in a rush to mail advertising Postcards right away, you can save a bunch of money on postage by opting for the slightly slower class of mail via the postal service.
What Industries use Postcard advertising the most?
Postcard mailings are popular with every industry. However, these industries use our Postcard services the most:
Beauty & Fitness
Events & Invitations
Food & Drink
Healthcare
Holiday & Seasonal
Home & Maintenance
Real Estate
Design Your Own 
Postcard Pricing
Standard 6″ x 4″ Postcards – Direct Mail with 1st Class Postage
| DIRECT MAIL | EACH | TOTAL |
| --- | --- | --- |
| 2,500 | ¢68 | $1,700.00 |
| 5,000 | ¢63 | $3,150.00 |
| 10,000 | ¢59 | $5,900.00 |
| 25,000 + | ¢56 | $14,000.00 |
Oversized 8.5″ x 5.5″ Postcards – Direct Mail with Standard Class Postage
| DIRECT MAIL | EACH | TOTAL |
| --- | --- | --- |
| 2,500 | ¢73 | $1,825.00 |
| 5,000 | ¢67 | $3,350.00 |
| 10,000 | ¢63 | $6,300.00 |
| 25,000 + | ¢61 | $15,250.00 |
Oversized 8.5″ x 5.5″ Postcards – Direct Mail with 1st Class Postage
| DIRECT MAIL | EACH | TOTAL |
| --- | --- | --- |
| 2,500 | ¢95 | $2,375.00 |
| 5,000 | ¢88 | $4,400.00 |
| 10,000 | ¢84 | $8,400.00 |
| 25,000 + | ¢83 | $20,750.00 |
Other Helpful Resources
Happy Customers
"I got a mailing list, created a great looking postcard, and sent it out – all right from my laptop. Truly incredible."

Cristy Clark, Print Monster – Detroit, MI
Can we help you?
Call us on 866 306 8674
for free expert assistance.
Or try our
It's 5:27pm in Phoenix & we're in the office!