Business Email Lists [2023]
Get your Business Email Lists from LeadsPlease, voted the Best List Broker service by Business.com.
Find new potential customers and grow your Company quickly & confidently, with high-quality, up-to-date business information. Buy email Lists of Businesses & Business Professionals across the USA.
What is a Business Mailing List?
A Business Mailing List is a B2B direct mail marketing list that includes the contact information for key decision makers at other Businesses. These b2b marketing lists help you quickly connect with your target audience, so you can spend more time selling your products and services, and growing your business.
What information is included in a Business Direct Mailing List?
A Business Direct Marketing Mailing List includes the following business data:
Employee Contact's First & Last Name
Employee's Title
Business Name
Business Postal Mailing Address
City
State
Zip code
Business Telephone Number
SIC Code
SIC Description
You can choose to add additional information, if needed such as :
Business URL / Website
Woman Owned
Small Business
Home Office
Annual Sales Volume
Years in Business
Number of Employees
Location Type: Headquarter, Branch, Single
Public / Private Ownership
Franchise / Not a Franchise
Chain / Not a Chain
Email Address (where available)
Can you help me with my direct mail campaign?
Yes! We also offer full-service Direct Mail, where we print and mail your direct mailer for you.
For more information and pricing, please visit our Direct Mail and Direct Mail Postcards pages.
Can I buy a Business Email Address List?
Yes! You can buy a Business Email List for email marketing campaigns.
Business Mailing Lists with Email Addresses are available on our website.
Select List Type: Business
Geography
Specify the Types of Businesses you want
Demography
Select Direct Mail + Email or Direct Mail + Emails where available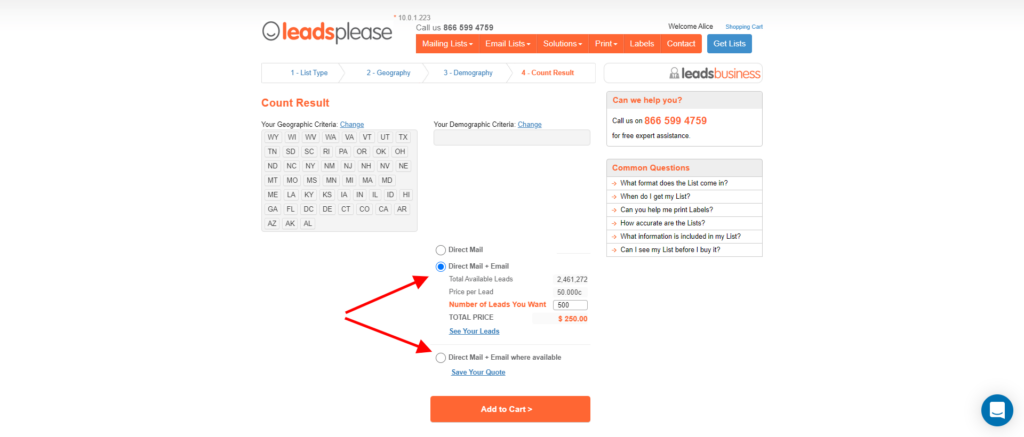 Click here to get started: Buy Mailing Lists
How many Businesses are in your database?
14,341,015 Businesses are in our dataset. Here are the Top 10 States for Business:
| Top 10 States | # Businesses |
| --- | --- |
| CA | 1,668,836 |
| TX | 1,108,996 |
| FL | 1,003,769 |
| NY | 864,421 |
| PA | 579,885 |
| IL | 548,572 |
| OH | 474,403 |
| GA | 466,017 |
| NJ | 435,162 |
| NC | 422,960 |
| TOTAL | 7,573,021 |
Can you help us with our email marketing?
Yes, we do offer digital marketing services. Please visit our Email Marketing page for more information.
What types of Business Mailing Lists do you offer?
We offer 100's of different mailing lists for business. Our most popular Leads for Sale are shown below.
We also offer many lists offline from a variety of data sources. So, if you don't see what you're looking for below, please  Contact Us and let us know what you need. We will research your request and get back to you!
I don't know what types of Businesses to include on my List; can you help me?
Don't worry, we can help ! If you're not sure what type of Businesses to include, please give us a call and we'll be happy to help. 1 866 306 8674
What format do the lists come in?
After you place your order online, you'll be able to download your mailing list in a .csv file format, directly from the website.
We offer 3 Easy-to-Use List Formats:
CSV File Spreadsheet
PDF Mailing Label Format for printing on Avery 5160 Labels
Printed Peel & Stick Mailing Labels

This is my 1st Time Buying a Mailing List; can I see a Sample of my List before I place an order?
Yes! We want you to be completely happy with your List.
A great way to ensure that you're completely happy, is for you to see exactly what you're getting before you place your order.
Please call us or email us to get a Sample Business List today!
We'll email it right over to you; then you can take your time to go through it and make sure it's correct, and exactly the way you want it to be before you place your order.
Why Should I Buy a LeadsPlease List ?
Business Email Lists are not all the same.
There are a lot of lead generation companies out there, but not all of them are 'great'. Some companies don't update and maintain their business databases often, and sell old, out of date information that can severely impact your marketing campaigns.
If you need an accurate, up to date list of emails, choose a trusted lead generation business, like LeadsPlease.
LeadsPlease Lists can help entrepreneurs and small business owners with their business needs, and boost their marketing efforts without breaking the bank. Our affordable, accurate lists lead to increased email signups, new subscribers, broader outreach, and more website visitors.
But don't just take our word for it. Business.com has voted LeadsPlease as being the Best Overall List Broker for the last 2 years in a row! If you want an accurate sales leads list, more sales leads and new customers, choose LeadsPlease Lists.
LeadsPlease Business Mailing Lists
You Win

90+% Accuracy Guarantee

Only trust the Best!

Voted Best List Broker service, by Business.com !

10+ Million Businesses in the USA

Find the

right

prospects using the largest database

3 easy-to-use list formats

Don't worry; we guarantee that you'll be able to use your list or we'll give you your money back!

Instant Download

Save time; get your list in minutes

Happy Customers

1000's of Happy Customers use LeadsPlease to grow their businesses. Start growing your business too!
What deliverability can I expect?
If you purchase a Business mailing list from LeadsPlease, you can expect a 90+% deliverability.
So, if you send your direct mailers to the list within 30 days of purchase, we guarantee that 90+% of your mailers will be delivered to the correct address.
You can read more about our Deliverability & Accuracy on our Data Quality page.
Can I use my personal email account to send out mass emails?
You can, but we strongly discourage our customers from using personal or business email accounts to deploy mass emails. We do not recommend using gmail, Outlook, yahoo or any other personal email account.
We recommend following best email practices, and strongly encourage our customers to use a 3rd party, professional email service provider for deploying and sending mass emails.
We recommend using a professional email service for the following reasons:
More emails hitting Inboxes
Higher Open Rates
Less Bounces
Integrations with popular Apps
Automation
Email Metrics reports
Recognized IP
Auto Release Posts to Social Media
If I purchase a Business Email List, what sort of conversion rate can I expect?
When it comes to email campaigns, conversion rates vary greatly.
Conversion rates vary depending on a lot of factors but for the most part, they are impacted by the following:
Landing Pages
Signup Forms
Accurate Contact List
Professional Email Templates
Email Hosting
Strong Call to Action
How accurate are your Business email marketing list?
Although we go to great lengths to frequently clean and update our business databases, they will always contain a small number of undeliverable mailing addresses & emails, out of date information and data errors that are beyond our control.
On average, when you purchase a business email database, you can expect to receive the following accuracy rates from your marketing strategy:
Business Mailing Address & Demographics – 90+%
Contact's Email Address – 80+%
How do you guarantee that I receive valid, accurate business email addresses?
When you purchase a Business List with business email addresses, we guarantee that 80+% of the business emails will be Valid and accurate.
We can guarantee this high accuracy rate because we clean and update all the email addresses on a frequent basis, including one final time at the moment you place your order.
At the point of sale, your List of emails will go through our final email address authentication process, using the world reknowned email validation API from NeverBounce. During this process, we identify and remove Invalid and Unknown email addresses, and ensures that you only receive Valid and up-to-date emails.
What information is included in a Business Email List?
Business Name
Telephone Number
Mailing Address
SIC Code & Description
Demographics if available (ex. URL, Number of Employees, Annual Sales Volume etc)
Contact Name
Contact's Title
Contact's Email Address
How do I get a list of Businesses in my area?
Select the geographical area that you want to include. Get Business Mailing Lists by Zip Code, City, County, State or using a radius around your address.
Select the type of Businesses that you want to include.
Order online with a credit card & Download your Business to Business Mailing Lists!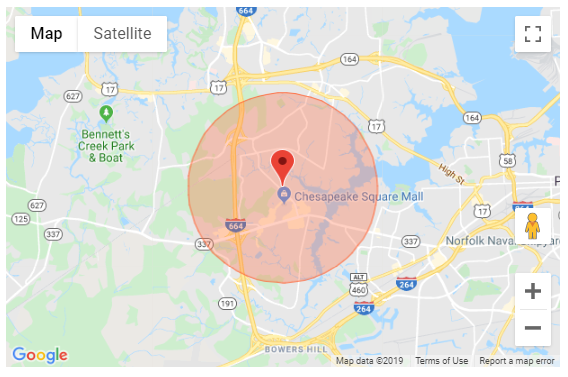 Can I get Business Mailing Lists by Zip Code?
Yes! If you want to get a cost-effective list of Businesses in one zip code, or in a series of zip codes, we can help you!
How much does a Business Mailing List cost?
| # RECORDS | PER RECORD | TOTAL |
| --- | --- | --- |
| 500 | 19.95c | $ 99.75 |
| 1000 | 17c | $ 170.00 |
| 2500 | 16c | $ 400.00 |
| 5000 | 12c | $ 600.00 |
| 10000 | 8c | $ 800.00 |
Business Mailing List Pricing
Business Mailing List Format
This shows the columns you get in your purchased mailing list. The 'Demographic' columns are only delivered if you search on them.
Column Name
Column Description
Demographic Column?
first
First Name
 
last
Last Name
 
title
Contact Title
 
company
Company Name
 
address1
Address Line 1
 
address2
Address Line 2
 
city
City
 
state
State
 
zip
Zip Code
 
zip4
Zip+4
 
full_name
Contact Full Name
 
city_state_zip
City, State & Zip Code
 
county_name
County Name
 
telephone
Telephone
 
url
Company URL
 
woman_owned
Woman-Owned
 
small_business
Small Business
 
home_office
Home Office
 
business_id
BusinessId
 
presence_of_contact_name
Presence of Contact Name
Demographic
annual_sales_code
Estimated Annual Sales Code
Demographic
annual_sales
Estimated Annual Sales
Demographic
years_in_business_code
Years in Business Code
Demographic
year_business_started
Year Business Started
Demographic
employee_count_code
Number of Employees Code
Demographic
employee_count
Number of Employees
Demographic
headquarter_branch
Location Type
Demographic
public_private
Public/ Private Ownership
Demographic
is_franchise
Is Franchise
Demographic
chain
Is Chain
 
primary_sic_division
Primary SIC Division (A-K)
 
primary_sic
Primary SIC Code
 
primary_sic_desc
Primary SIC Description
 
secondary_sic
Secondary SIC Code
 
secondary_sic_desc
Secondary SIC Description
 
naics1
Primary NAICS (North American Industry Classification System) Code
 
primary_record
Primary contact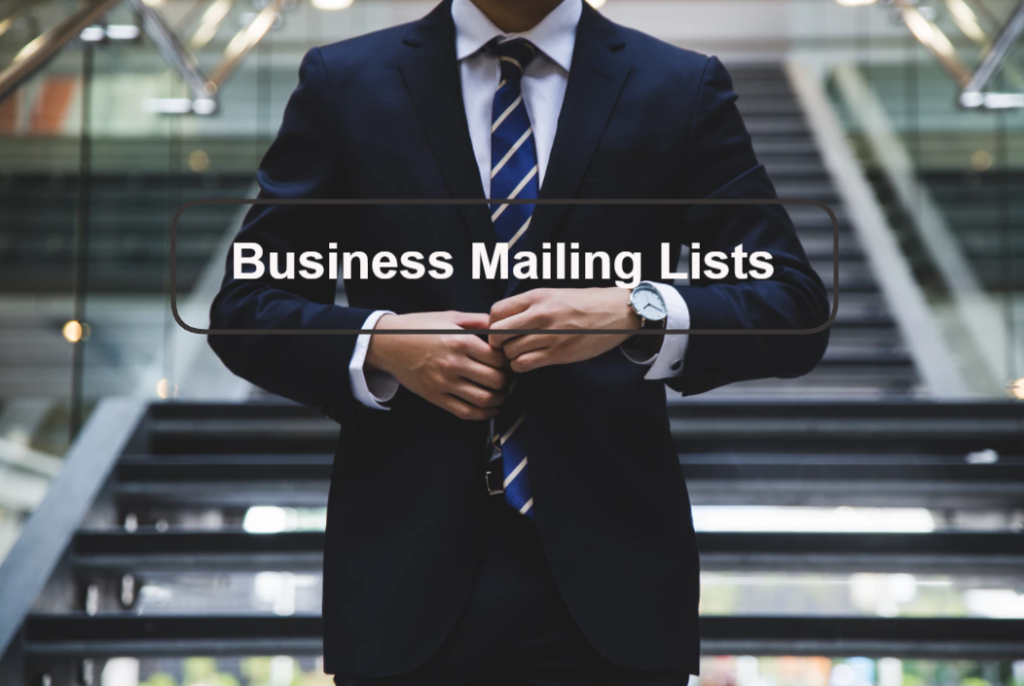 Other Helpful Resources
Happy Customers Growing Their Businesses with LeadsPlease Mailing Lists
Business Mailing Lists FAQs
What is an SIC and how can it help me?
The Standard Industry Classification (SIC) was created by the Department of Labor to create a clear hierarchical view of the branches of different industries. It works a bit like a library system with 2 digits representing the top/head of the tree. Other numbers are added to denote how far down the tree the classification is. This helps to target all branches of different industries easily.
Do business mailing lists have phone numbers?
Yes. Business mailing lists have 100% phone numbers.
Can I exclude franchised businesses from my list?
Yes you can. On the demography page click on 'franchise' and the box will expand. Click on 'not franchise' and then click 'add'. Franchised businesses will be excluded from your list.
Can I choose what business title I want?
Yes you can select from many business titles on the demography page.
Can I use my personal gmail account to send out emails?
Yes you can, but strongly discourage our customers from using personal email accounts for sending mass emails.
Can we help you?
Call us on 866 306 8674
for free expert assistance.
Or try our
It's 5:27pm in Phoenix & we're in the office!